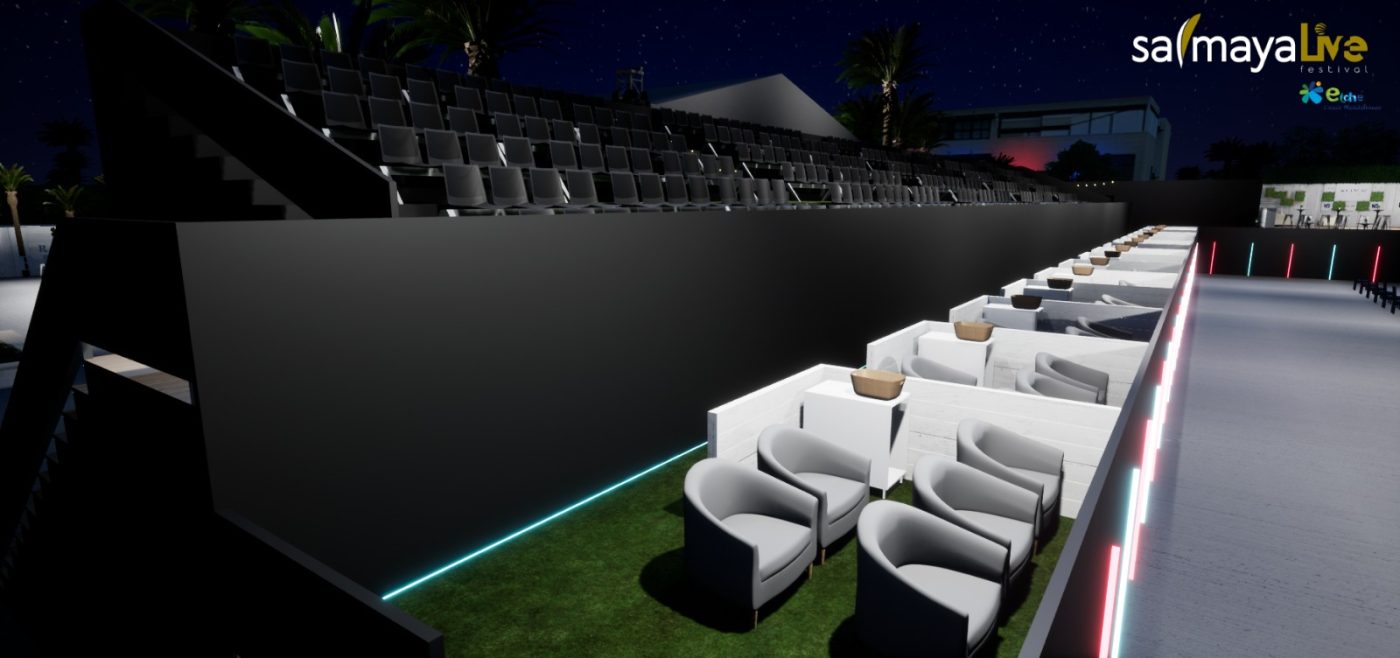 People who purchase VIP Seats will enjoy the concert in a special way. You will receive priority access to the site, reserved parking and transfer by private car to the entrance. When you leave the parking lot, another vehicle will pick you up at the gate to take you back to the parking lot.
They will enjoy one of the most prestigious wines in Spain, none other than Bodegas Volver; a bottle for the five members of the seats. And as if this were not enough, they will also taste a small tasting of products from the Camp d'Elx.
In addition to all this, they will have exclusive waiter service.
Thanks to this type of ticket, you will be able to access the LIFE area (entertainment area) free of charge after the concert. And last but not least, they will receive a free gift from Salmaya Live Festival.
¿What are you waiting for? ¡Live the Salmaya Live Festival – Elche Oasis Mediterráneo experience like a true VIP!
All information and ticket sales at salmayalive.com
SALMAYALIVE FESTIVAL IS MUCH MORE THAN A FESTIVAL.


Salmaya Live Festival,the crown jewel of the events included in the tenth anniversary of COPE Elche, continues its course and offers more news to all those interested. Specifically, the festival makes public the composition of one of its two ways to enjoy the event: the "Live" zone. This is the entertainment area of Salmaya Live Festival; it has a stage, bars and food areas with a great gastronomic offer.
First of all, the stage. The Salmaya offers entertainment every day; it will have the most outstanding DJ sessions, with the best artists of the scene and themes of the past, present and future, to make people of all ages participate in the experience.
The bar and food area will contain top quality products from Elche and will also include exclusive areas for vegetarians, vegans and coeliacs. Salmaya does not want anyone to be left behind when it comes to enjoying the event, so it makes sure to have all kinds of culinary options for different public profiles.
The "Life" area will be the main access to the Salmaya auditorium. However, once the concerts are over, only those people who have a paid ticket, valid only for this area, or who have purchased the tickets located at the Front-Stage and the VIP seatsThe latter is a very attractive option, as it includes private parking and transportation, a privileged view of the concert and tasting of food and drinks of the highest quality.
Salmaya Live Festival, which already has seven confirmed singers (Vanesa Martín, Antonio Orozco, Sergio Dalma, Miguel Ríos, Antonio José, Ana Mena and Twin Melody) continues to advance content with respect to what is called to be the event of the summer in Elche and throughout the Valencian Community. Upcoming artists, as well as more news about the festival, will be unveiled in the coming days on their social networks and in different media. All information, as well as ticket sales in its different modalities, are available at www.salmayalive.com.
One of the most different plans for the summer mornings before the festival is to go to the amusement park Pola Park Santa Pola. With up to 25 attractions for the whole family to enjoy, the place offers unlimited fun. A 24,000 m2 site with a wide variety of catering services: snacks, hamburgers, hot dogs and pizzas. Your mouth will be watering with this assortment; and you will enjoy landscaped walkways, lots of lighting and colors; an ideal environment that will surround you during your adventure in Parque Pola.
And not only do they have water attractions, the most classic ones for the nostalgic ones or the newest ones for the determined ones, but they also offer various shows where you can sing, dance and laugh with your loved ones.
Access is really easy, and the park can be reached by car, train or bus, as well as by road from Elche airport.
Don't hesitate, young and old. Before a dreamy evening at Salmaya Live Festival, ¿what better than a morning of games and fun at Pola Park Santa Pola?
More information through their social networks or at www.polapark.com.
Salmaya Live Festival not only offers the best plan for summer nights among the corners of its enclosure, but the city of Elche has much more in store for your dream vacation. Among others, a morning of shopping at the L'Aljub Shopping Center. Awarded with the Q for Tourist Quality (the first shopping center in Spain to receive it) and a wide range of services, L'Aljub wants to make your stay memorable.
For this reason, it has an endless number of stores of all kinds: footwear, fashion, sports, beauty, gifts, home, health care, etc. It also has a wide range of restaurants, with establishments of all kinds and for all tastes, recreational facilities and a movie theater where you can see the latest premieres. Finally, it is surrounded by a large parking lot to facilitate access to visitors so that no one is left without visiting this dream site.
And it doesn't end here, because by downloading the free L'Aljub Shopping Center app, you will become a member of the Oasis Club. With a personalized QR, you will have access to gifts, exclusive sweepstakes, offers, discounts and much more.
Don't hesitate, young and old. Before a dreamy evening at the Salmaya Live Festival, ¿what could be better than a morning of leisure and shopping at the L'Aljub Shopping Center?
More information through their social networks or at www.cclaljub.com.
Salmaya Live Festival is, without a doubt, the festival for this summer. But, honoring its surname; "Elche Mediterranean Oasis", we cannot forget the multiple options that the city offers to those interested to enjoy, even more if possible, this experience.
Within the website of Visit Elche, the tourist office of Elche, you can find plans organized specifically for you. For athletes, "Get active in the Oasis": with your family and/or friends, practice different sports and routes through the nooks and crannies of the city. For those who enjoy themselves, "Take care of yourself at the Oasis": because traveling is also about relaxing and disconnecting in spaces dedicated to wellness and health. For the intrepid, "Discover the Oasis": its triple heritage of Humanity; the Palmerar, the Puçol and the Misteri. Walk along the trails surrounded by impressive palm trees, learn about the history of this Iberian city in its museums, and get enveloped in its warm and welcoming spirit.
In addition, fill the soul and the stomach with an exquisite gastronomic experience in our restaurants, inns and bars, some of them with meritorious recognition. The Camp d'Elx nourishes us with fresh and natural products, which delight both locals and visitors.
Don't hesitate, young and old. Before a dreamy evening at the Salmaya Live Festival, ¿what better way to experience this Mediterranean oasis than with VisitElche's experience packages?
More information through their social networks or at www.visitelche.com/experiencias.

SUBSCRIBE TO OUR NEWSLETTER